PROVITA
Broiler Special Formula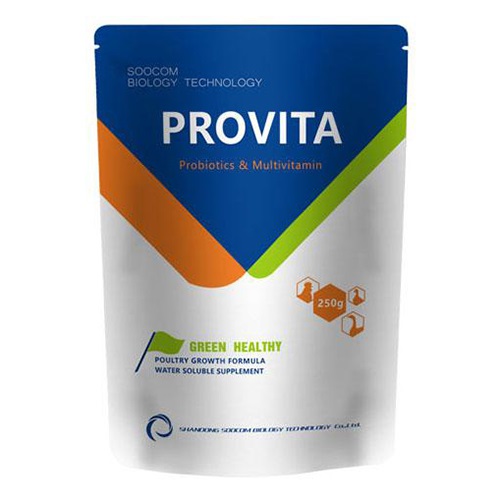 COMPOSITION: Per kg
Clostridium butyricum, Bacillus subtilis
Enterococcus faecium, Lactobacillus
Total above viable count ≥ 5×108CFU/g
Prebiotics (bifidus factor, oligosaccharide)
Vitamin A 1500,000 IU
Vitamin D3 200,000 IU
Vitamin E 4,000mg
Vitamin B1 100 mg
Vitamin B2 400 mg
Vitamin B6 600 mg
Vitamin B12 5 mcg
Vitamin K3 600mg
INDICATION:
1. Adjust intestinal flora balance , decrease enteritis and diarrhea caused by all kinds
of reasons, decrease use of antibiotic.
2. vitamin supplementation, keep broiler early stage physiological function,
3. improve immunity and anti-stress strength , increase survival rate and uniformity
4. Stomachic , attractant , promote digestion increase ingestion speed , improve FCR.
DOSAGE&ADMINISTRATION:
1. Use for broiler all through the early stage (0-15days)
2. Use for broiler late stage (after 15days) when short of vitamins or
digestive system disease frequently occurring period keep use 3-5 days.This Product 250g for 1000L water or 500kg feed.
Caution: This product cannot mix use with other medicine and vaccine, use interval
time should not less than 3 hours.
STORAGE: Keep in storage of 5-25℃, prevent from light.
PACKING: 250g×40bags/carton/drum