MaxCare W/S
Poultry Functional Feed Supplement
Proventriculitis / Ventriculitis Controller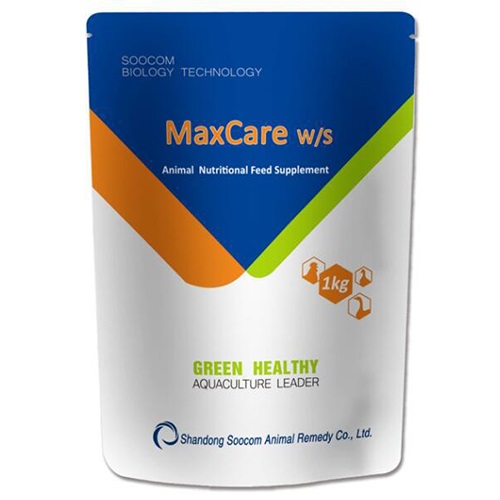 COMPOSITION: Per Kg
Bacillus subtilis,
Clostridium butyricum
Total viable count ≥ 7×108CFU
Yeast Extract 30g
Astragalus Extract 100g
Carrier: Prebiotics (bifidus factor, oligosaccharide)
Dextrose Attractant, etc.
INDICATION:
1. Adjust intestinal flora balance , decrease enteritis and diarrhea , prevent and treatment proventriculitis / ventriculitis (muscular stomach inflammation) caused by all kinds of bacteria.
2. Keep poultry best physiological function at breeding early stage .
3. improve immunity, increase survival rate and uniformity
4.Stomachic, attractant , promote digestion increase ingestion speed ,improve FCR.
DOSAGE&ADMINISTRATION:
For poultry : 1g for 1L drinking water or 500g feed.
This product cannot mix use with other medicine and vaccine, use interval time should
not less than 2 hours.
STORAGE: Keep in dry storage of 5-25℃, prevent from light.
PACKING: 250g×40Bags/CTN, 1Kg×15Bags/CTN
VALIDITY: 2 years