TOXINCOM
Mycotoxin Cleaner
Liver / Kidney Protector
Immune Booster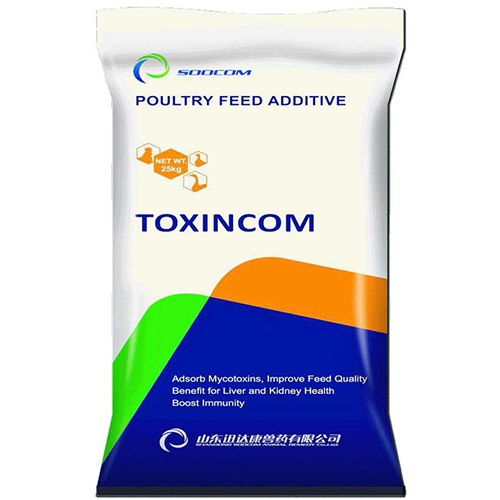 Description
Toxincom is powder form new formula toxin cleaner liver and kidney protector
detoxicant and immune booster , digestive system health promoter which is composed
of yeast cell wall , probiotic , harb extact widely adsorb all kinds of mycotoxin in the
animal feed such as aflatoxins(AFT), zearalenone(F-2 toxin), Ochratoxin A (OA), T-2
toxin and vomitoxin(DON). And reinforce immune system and promote digestive
system balance.
Composition: per kg contains
Yeast cell wall ≥ 200 g
Bacillus subtilis ≥ 1*1012 CFU
Carrier Herbal Extract Such as
Astragalus Polysaccharides & Glossy Privet Fruit Extract Etc. up to 1kg
Functions
Powerfully prevent mycotoxins growth and absorb all kinds of mycotoxins and their
metabolin, improve feed quality.
Protect liver and kidney functional, in favour of toxin decomposition and metabolism
Promote feed intake by optimizing intestinal metabolism and increasing digestion.
Improve animals' immunity by stimulating immune response and reduce animals'
morbidity especially digestive system disease.
Improve performance of production and breeding; enhance economic benefit.
Usage & Dosage
1. Daily Health care and Mycotoxin cleaning: 1kg per 1000kg feed .
2. During disease period which caused by mycotoxin such as enteritis diarrhea
glandular stomach inflammation / muscular stomach inflammation liver and kidney
functional damage.
1kg per 500kg feed. Keep 5-7 days.
Packaging form
1 kg/aluminum foil bag 15 Bags/CTN. 25 kg kraft bag .
Storage
Stored with sealed packaging in a cool, dry place.
Validity 2 years